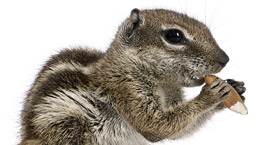 What people say about us…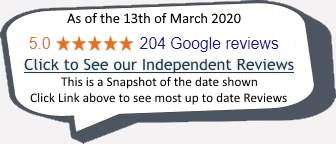 ---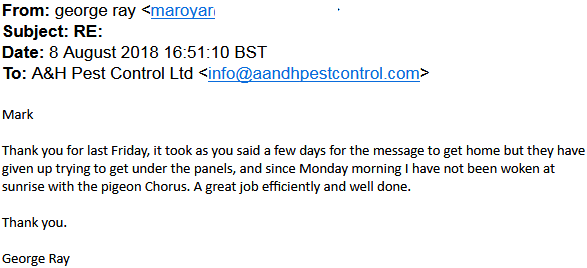 ---

---
"Thank you Mark for a great job, Very pleased with work"
Irene & David Larner – Essex – July 2017

---
"Mark and his team were great from start to finish, my enquiry was answered quickly, acceptable quote given and appointment arranged all in a matter of days. The information regarding the problem and solution was detailed and the work completed in an effective, friendly and efficient way – no more pigeons! They went above and beyond and even repaired a broken roof tile and cleaned a roof light whilst up on the roof. I couldn't recommend them highly enough."
Mrs Lesley Wood – Orpington – June 2017

---
"Thank you for putting netting round our solar panels and cleaning the gutters. It's taken a couple of months but the pigeons are much reduced in number, with only a few hanging around the roof. A neat, tidy and courteous job. A huge thank you for also sorting the irritating noise from our soffits and a couple of broken tiles at no extra cost. We have no hesitation in recommending your company."
Lesley C (London) – Jan 2017

---
"Swift and professional service, very happy with the work carried out."
"Hello Mark
Thought I would report back re my Pigeons. On the first night there were about 12 or 15 disgruntled birds in attendance, on the second night that was down to six or so and over the weekend I seem to have become a Pigeon free zone apart from the odd one or two during the day as I would expect. I noticed the silence and especially the clean (er) conservatory roof!
Thanks for your efforts, the whole exercise was straight forward  for me from the original web enquiry through to the work being carried out, it would all seem to have been carried out to a high standard and most importantly very effectively. Thank you."
Bob Mabberley
August 2016
---
"I recently had solar panels pigeon-proofed by A&H. Mark was very helpful in explaining exactly what would be done, and provided more detail after the event regarding how and where attachments had been made. The end result is neat and tidy, and the pigeons have (after a couple of confused weeks wandering around the panels, which Mark warned about!) now pretty much disappeared. The work was done promptly (subject to weather, which is to be expected when crawling around a roof) and everything was left neat and tidy after the work was completed, including cleaning out of nests and guttering. I would have no hesitation in recommending A&H for this work."
Adrian Boyle

---
"Thank you for the great work you did I was such a pleasure to meet a tradesman that was not out to squeeze the last penny out of you. You were courteous, respectful and professional at all times. I will have no hesitation in recommending your company to my friends and family.

Good luck for the future.."
Kathleen Meddeman

---
"Excellent service and very responsive. Clearly explained the options and delivered a cost-effective solution."
Robert Goddard

---
"Mark was very prompt in returning our enquiry. He explained fully what his service provided against others out there. He arrived when he said he would, carried out the work to a high standard and tidied up afterwards. Would not hesitate to highly recommend Mark for all your pest needs."
Michelle Andreou
---
"Super service carried out by a competent Pest Controller. Nothing was too much trouble. Highly recommend to anyone with a pest problem"
Di Hawkins
---